Welcome to IYCWorld
!
If you're really enamoured by the Big 4 - Google, FB,
Amazon, Apple - bite your lips, as you read on.
IYCWorld is all set to be the first human organisation to touch every 7 bn of us,
and the mother earth, like no on else, ever.
Our twin axes of human revolution
K-12 education
Fortunately, quality of school education is THE determinant of future success! Formal higher education, as is, matters for professional licensing and peer-ship demands.
Governance
The most critical application of AI is in enabling 'Democracy 2.0' - Direct Democracy as the governance model! Politics matters, ever more so as liberal democracy is failing humanity!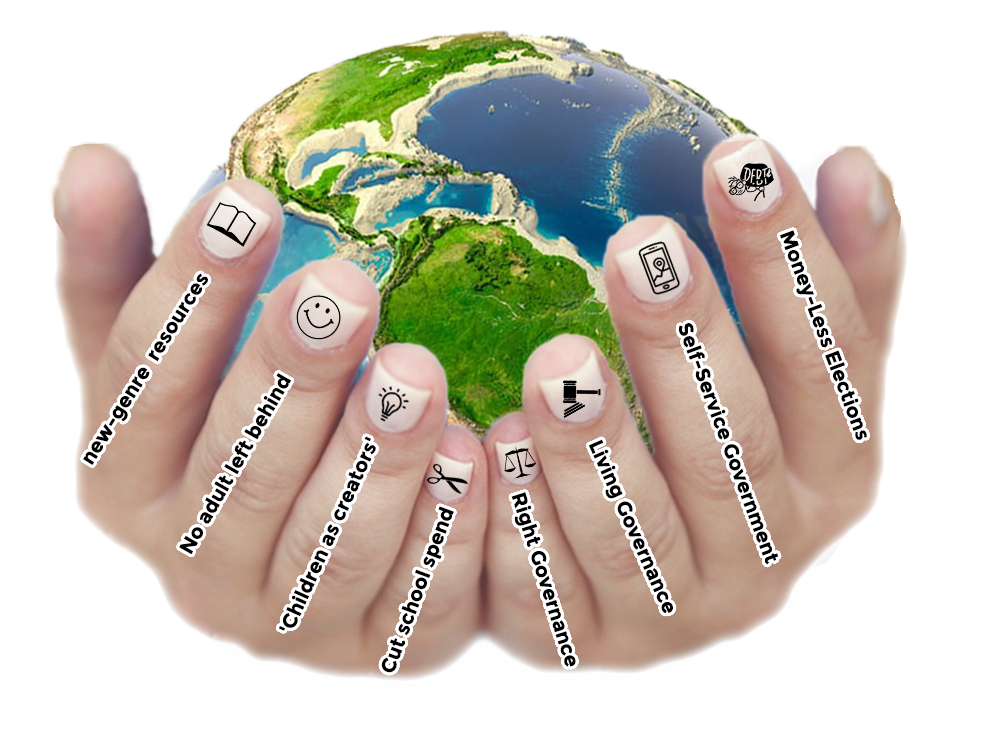 Education
New-genre resources
World's first K-10 revolution fueled by new-genre teaching-learning resources; 100% fail-safe transformation
No adult left behind
No teacher and parent left behind; unprecedented level playing field w.r.t. access to opportunities, for every family
'Children as creators'
('Children as knowledge creators') as the default 'pedagogy'; refounding K-5 pedagogy on 'ALL children are talented'
Cut school spend
Systematically cut expenditure on schooling of nations and families; enrich communities for 'whole-child development'
Governance
Money-Less Elections
True democratisation of election - anyone eligible can contest and reach all constituents; ONE digital campaign platform for all
Living Governance
Extensive AI in governance for 24X7, closest engagement with EVERY citizen in maximising individual and societal achievements
Self-Service Government
Digital, convenient, and corruption-free provision of all government services, e.g., marriage certificate; unswerving dignity to citizens
Right Governance
Redesigning governance (drawing board up) and minimising its cost, rule of law, and dynamic accountability for outcomes